There are many air compressors on the market. Some have all the bells and whistles. Some do one thing and nothing more.
But which will last the longest? Which works best in the desert powered by your car battery? Are there any key features you should not live without? Is there one single best 12-volt air compressor for off-road? Read on and find out what you need to know before buying.
When you are out in the trails and you get a flat or your friend gets a flat. What do you want? You will want to inflate a tire quickly. It is not like he has a G Wagon 6×6 that can automatically inflate its tires from a push of a button in the driver's seat.
Generally, a portable air compressor will have less power. things will take longer to fill up. But you can store them away and forget about them until you need them next.
A mounted onboard off road air compressor with a decent-sized air tank will deliver a lot of air quickly but storing it will be a pain. You have to dedicate a spot in your truck to it 100% of the time.
The main things you will need are:
Portability
Power
Storability
Reliability
We will rate each compressor from 1-5 off of these four basic metrics and give them an overall score and name the best 12-volt air compressor for off road.
READ MORE: THE BEST DO-IT-YOURSELF SPRAY IN BEDLINER
---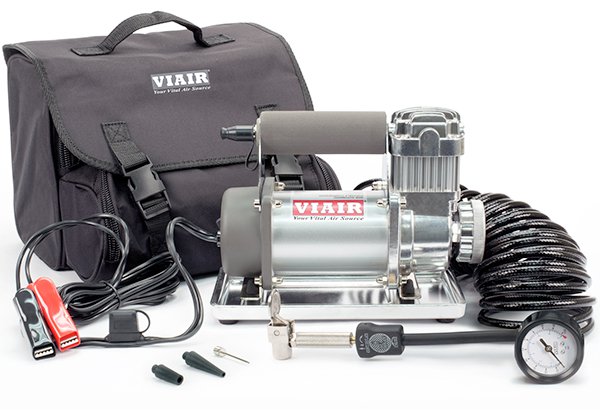 Viair is the marquee name in air compressors. At 12 volts it can fill up a 33-inch tire from zilch to 30 PSI in under 5 minutes.
Rubber dampers let it vibrate like a kitten instead of a rabid clothes dryer. The featherweight entry-level compressor is the first of many.
You can buy a few and stick them where you want to. They're cheap, light, and indestructible so you can hoard them and forget about them until you need them. And you will need them.
Hook them up to your battery. The power cable is 6 feet long and the air cable included is the same length so you can set it up on the engine bay and reach all our tires without stressing too much.
Like most air compressors you can turn it on and leave it to go get a cup of coffee or crack a beer. It fills a 36-inch tire up from flat in about 1 beer (or five minutes if you want to use traditional units).
Check Price
---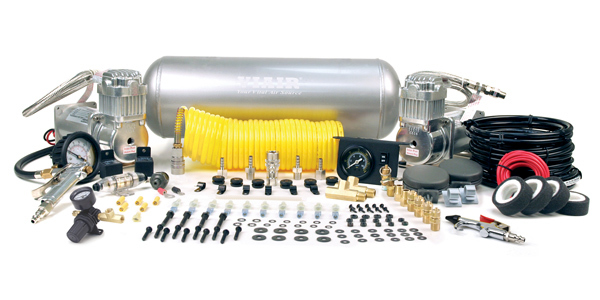 With models ranging from Ultra Light to Super Heavy Duty and beyond, it's easy to find a Viair Onboard Air System that will suit your needs.
Inflating anything from toys in your backyard to tires in the desert in the 110-degree heat has never been easier.
It boasts 150 PSI maximum working pressure and 2.54 CFM maximum flow which are on the higher end for portable air compressors. Some models come with dual motors.
The Onboard system is designed to bolt right into place in your vehicle with just a bit of drilling. You don't need to buy an install kit or mounting hardware. Everything you need is included in this complete kit.
That makes it easy if you plan on putting this air compressor to a lot of use in a specific application while paying a premium for its functionality.
Power and utility are what you are paying for. These are workhorses. You can buy them on Amazon and they can be found at the Baja 1000 easily.
But if you want portability and flexibility in ease of use this may not be the best off-road air compressor for you.
---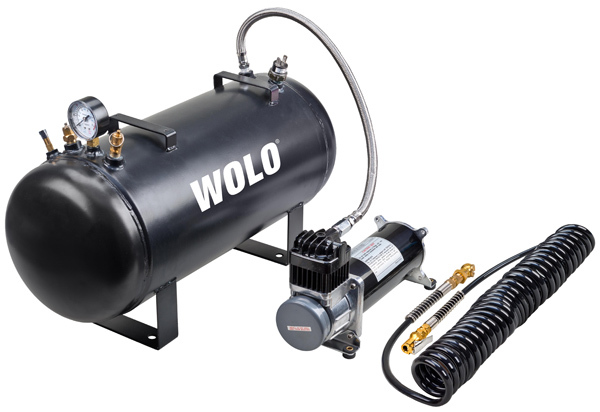 You never need to get angry about air anymore when you have the 5-gallon Wolo Air Rage On-Board Air Compressor. Why? It starts with the purchase price (last I checked it was $200).
You can order the compressor and the 5-gallon tank separately or together and you can be pumping up air horns, power tools, suspension systems, and more that is what Wolo is famous for. It also includes cooling fins for the motor for max cooling. While you're at it why don't you buy an old train horn to scare the crap out of the person that is always driving too slow in the fast lane?
This is a great option if you plan on using air systems in your vehicle along with the ease of an air compressor for offroad use when you are in the hills. At 3.5 CPM and a 5-gallon tank, you can inflate four 35″ tires on new wheels in no time. This feature alone will make this guy a bargain compared to similarly priced onboard air compressors.
All the hardware is included for a complete installation and two hoses for operation in the complete kit version.
Solid steel welded construction means it will last a long time as long as you don't go YOLO with your Wolo (I had to do it. Sorry, not sorry…).
---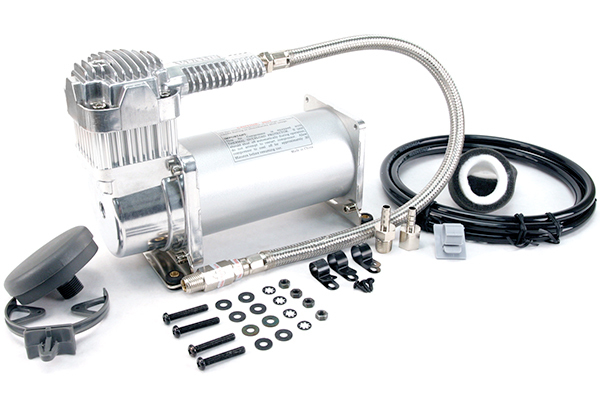 Stocked up with thermal overload protection, an inline check valve, and a remote intake filter, the Viair 400 Series Compressor Kit really gets down to business.
It comes with everything you need for years of unmonitored use in an air compressor for off-road use. Really. You can literally set it and forget it until you need it. It really is that great.
A completely oil-free design allows you to mount this compressor pretty much anywhere you can dream of and you don't have to deal with any messy filters hanging in any direction. A high-performance PTFE hose comes custom-fitted with each kit.
At a 3.5 CPM rating, you will need it since it is designed to be a portable vagabond and can't store any air. Boohoo.
The lack of a handle and a hefty base makes this guy not as appealing as others in the Viair lineup. It is made of aluminum so it wouldn't add too much more weight. But it would drive the price up somewhat.
You may want to add a sticker or two to finish this bad boy off. But make it pretty how you like. You will be lugging it around from the back of your truck to your friend's busted wheels.
---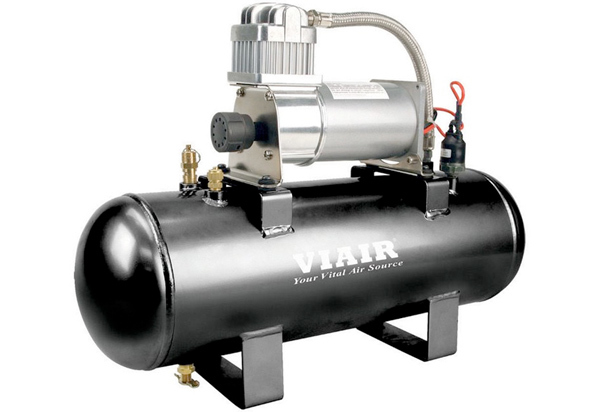 Another trustworthy air compressor with a familiar name Viair. The Air Source Kit includes a tidy 1.5 or 2-gallon tank and a dependable magnetic motor that features an oil-free design that will keep this compressor working for years and years.
If you do not demand a lot of use from your air compressor or want to find a cheap and steady option then this can be your choice. The air tank options are only 1-2 gallons so you can tuck this little guy away in many places. Quality parts make this guy a middle-of-the-road all-around workhorse.
It may take a while to charge but it will look cool mounted on your truck. Viair is the most trusted name in air compressors so you won't be throwing your money away.
[table id=19 /]
---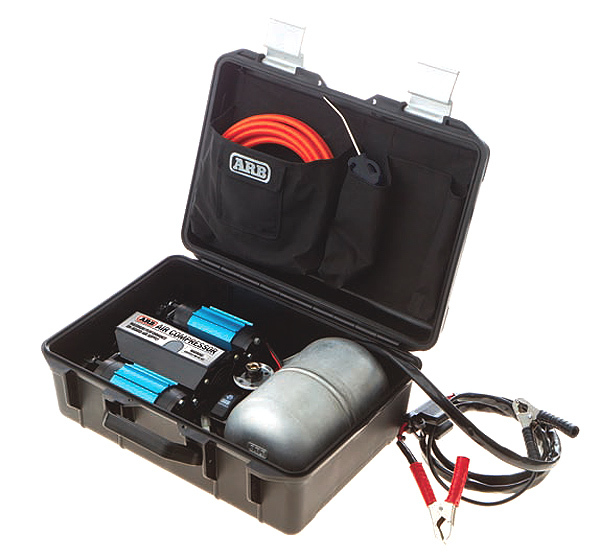 One of the cool things about the ARB Portable compressor is that it comes in a little tackle-box type of thing with everything you need right there in one handy place.
It takes up little space and it packs away easily. It comes with a 19-foot hose so if your friend is stuck and you can't get close this will come in handy. This is a great piece to keep with your camping and outdoor gear.
The portability of this little guy is superb. Keep it on the hood of your truck and you can reach most places within your campsite or hopeless friends on the trail. The size is deceiving because it will fill up anything fast! The power it packs is more than any other comparables.
The downside is that it costs an arm and a leg. The good side is that it's compact, portable, and powerful. When you're out and about it will pay for it more than once.
---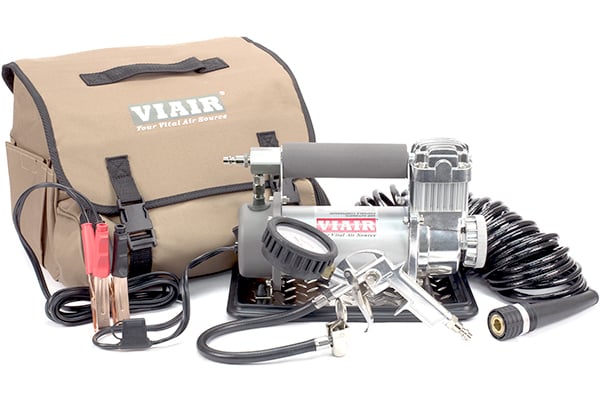 Unlike the regular Viair 400 Series, the Viair 400 Series Portable is lighter and, well, portable! It includes an easy-to-carry bag that will hold this compact compressor along with a gauge, 3 inflation tips, and a 5-in-1 inflator.
This compressor can pump up a 35" tire to 30 psi in just five minutes without breaking a sweat. It comes with a longer power cable than most and a wider and flatter base than other equivalent air compressors. So it is easy to set it and use it for a portable off-road air compressor.
It comes with long cables and a nice flat and wide base so when you set it down it stays put. The thick handle makes it easy to manage for quick and clean jobs.
It does cost about double that of the regular 400 series but if you want to carry an air compressor around with 2 fingers and get the same power and reliability as its more affordable brother this is it.
Check Price
READ MORE: IS ROTOPAX THE BEST OFF ROAD GAS CANS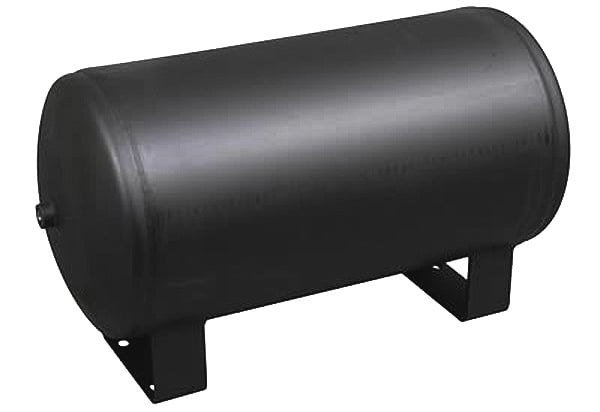 With a long list of dimensions and sizes available, the Firestone Air Tank is a great component to couple with a currently tankless air compressor.
The only tank on our list that doesn't have the option to add a compressor, Firestone set their focus on storage tanks. They come in all sizes so they can fit anybody's needs no matter how big or small.
If you are first looking at a portable air compressor you can upgrade to a tank and mount the entire system hidden in your truck when you are ready.
This tank gets rave reviews and won't leak. Just don't crack it when you're flipping your Renegade in the trails.
---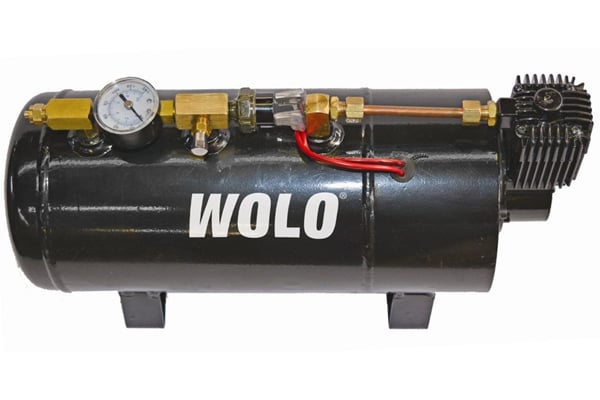 The incredible all-in-one high-pressure on-board air compressor system, the Wolo Sherman Tank & Compressor is designed to do some serious heavy lifting in a compact, one-piece design.
One unique feature is the compressor hidden. It is installed inside the tank. That is great for everything except when the motor craps out and you cannot fix it. Scrap it and buy a new air compressor.
It comes with a 1-gallon tank and 1.03 CFM flow. It may be the best off-road air compressor for our uses.
It includes everything you need for a quick and simple installation. Also, it's completely resistant to all forms of rust and corrosion.
It is light and powerful and the price is right. It doesn't really stand out in any one area but it can be a great choice for an all-around air compressor.
Check Price
---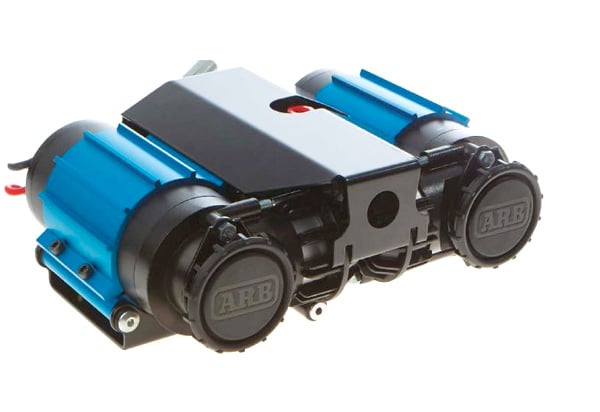 Available in single or twin, 12-volt, and 24-volt, configurations the ARB On Board Compressor installs directly to your vehicle and has the power to always keep your tires inflated and more.
An air locking solenoid plug-in and a splash-resistant high-flow air filter make this resilient to about anything life throws at it. The twin version is probably the best-looking and most unique of all the air compressors. At 6.16 CPM it has double the amount of air being pushed than its competition.
You don't need that type of power but it sure as hell is nice to have when you do.
Normally air compressors are hidden because they are bulky and ugly. But the ARB has a beautiful fixture that most will want to show off under their hood.
The looks and function of this bad boy may not justify the price for some. But if you want something that works like your heavy-duty air compressor at home then shell out the extra few hundred dollars and mount this guy on your beefed-up 4×4.
The ARB portable air compressor is my pick for the best 12-volt air compressor for off-road use. It is more expensive than most of the others but what you get with the price is almost incomparable to the others. It is very portable and powerful.
It is very reliable and it gives you exactly what you need when you need it. Nobody really regrets spending money on an excellent product. But they will regret buying a cheap product that doesn't work properly or just breaks.
---
Your requirements may be different than mine or your neighbors'. Choose what you want in an air compressor to buy your best 12-volt air compressor for off-road. As long as it fills the tires quickly and reliably you won't make a wrong purchase.
You may want a portable removable air compressor that you can lug from place to place then you should not buy a larger heavier mountable compressor. A lightweight off-road air compressor may be up your alley. But then you will be sacrificing power.
Lugging a long extension cord will further weaken its power output. But then these are lighter and are hidden out of sight with ease. Choose what you want and need and go from there.
Thanks for reading and stay dirty